Yes, the clip has already popped up in at least one diary, but this one is so pathetic that I can't help but try to bring as much attention to it as possible.
Today, in a desperate attempt to prevent Sarah Palin from continuing to destroy any remaining chance of coming off as anything other than a complete twit, John McCain actually CHAPERONED BABYSAT his young ward in a follow-up interview with Katie Couric.
Below the fold, the YouTube clip which has to be seen to be believed:
OH. MY. GOD.
That's right--he was right there beside her, and she STILL made herself sound like a jackass.
In attempting to "clear up" her Pakistan response, both of them actually tried to blame the VOTER WHO ASKED THE QUESTION for "asking 'gotcha' questions or some such nonsense:
McCain: "Look, I understand this day and age gotcha-journalism. Is that a pizza place? In a conversation with someone who you didn't hear...the question very well, you don't know the context of the conversation. Grab a phrase."
What the hell is THAT supposed to mean?? A voter asking a legitimate question about a vital issue of national importance is "gotcha journalism" because the response was (gasp) actually recorded? The question was very clear, the response left no room for doubt, and the location of the exchange is utterly irrelevant. Who gives a shit if it was in a pizza place, a bus station or the Taj Mahal???
McCain continuously fidgets with his fingers again (ring finger again, anyone?) and answers for Palin like a parent accompanying his daughter to a college acceptance interview like it's a f*cking parent-teacher conference (h/t to CoolOnion for the far better metaphor).
As someone over on DIGG put it:
"These two appear far from presidential. They look like a nervous couple trying to get approved for a loan."
REC THIS.
Update: Can't forget my favorite original creation: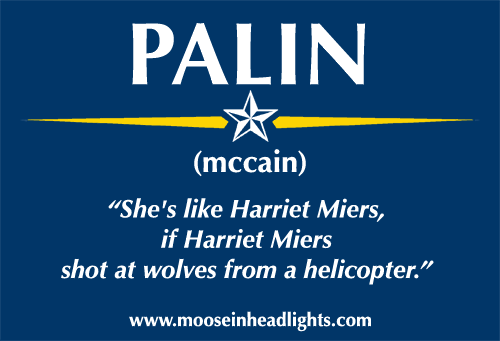 Update: Poll added--and yes, I know I left out Political Science and Civics; those would have been too obvious!!